The creation of this website and association was only created after 18 years of sharing these ideas with the USATT to run with. In April of last year, few within the USATT asked me to please be patient, and try to do it with/on behalf of the USATT; therefore, I slowed down since that's all I, Michael McFarland, ever wanted to do was help the USATT.
Since the USATT has limited financial resources, this past year I had offered a performance base financial incentive approach which others and myself may go after grants, sponsors, develop programs, and acquire free commercial spaces for training centers for and on behalf of the USATT.
Meaning if we produced nothing, the USATT loses nothing, and the only compensation paid would be % based on revenue generated by production. That would be the only means of compensation for anyone that means well for our sport on behalf of the USATT. Each person would have to be safe sport certified, have passed a level 2 security clearance, or passed their 50 state background check.
Personally, I believe we need as many feet on the ground working together for our sport, so it's important to create the proper tools necessary to combat the challenges we have living in such a large country; therefore, creating a national organizational structure, multiple systems, building teams, and developing multiple financials vehicle will help give our sport the tools necessary for future successful growth.
USATT representative back in August of 2019 shared with me, that the approach the USATT would rather take would be to partner with other table tennis organization similar to the partnership between the USATT & AYTTO, American Youth Table Tennis Organization; therefore, after long consideration on the vision for the USATT since 2002 and the new restructuring of the USATT, the incorporation of a new Florida base non-profit organization occurred on January 27, 2020, USTTAA, United States Table Tennis Athletes Association.
My number 1 goal is to provide as many tools as possible to help anyone in our sport promote, grow, and make a living developing this wonderful lifetime sport we all love.
Just as many of you out there I only want to see our sport grow, and you will see even within this structure that the USTTAA truly belongs to its members. I don't even have an individual seat on the this new organization's board. I'm just 1 vote of a group of program directors in which our collective votes only represents 1 vote on the board. This association is purely there to serve its members and the National Grassroots initiative to grow our sport.
As many of you may or may not know since 2002 different USATT Board of Directors & staff has had a sample mission statement for future state association in front of them, and the organizational structure which you see within this website has been shared since 2004 with members of past USATT boards & past & present staff. You can find a copy of the mission statement within the sample State Association Bylaws on the FAQ page
It really comes down to what comes first the chicken or the egg, or are we playing chess or checkers. When looking at other successful sports in the United States there's a consistent theme. They are either managed regionally or at the State level. In some cases they use both. Those NGB, National Govern Bodies, act more in a supportive roll for the regional and state association as their primary focus being toward the National Team.
I'm 42 now, and all I want to do is help promote our sport. I'm not interested in the never ending politics that seems to plague our sport. I just understand to truly grow the sport there has to be a stronger national structure put in place; therefore, since I'm not getting younger, it's time just to move forward either with the USATT or sometime in the future with the USATT ideally.
Since time has passed, below you will see a few different options as a starting point where either party may suggest different changes. The details per line items to be discussed before both parties agree.
Below is our proposed transparent collaborate break down of membership dues to the USATT for the potential partnership with the USATT & USTTAA grassroots partnership initiative. If the USATT agrees to the below or something similar option, USTTAA is proposing the USATT to apply the below disbursement starting the 3rd quarter of 2020 as shared below.
The USTTAA will disburse membership dues to each program once a quarter; for example, Incoming membership 1st quarter January 1st – March 31 will be disburse by April 15th, 2nd quarter April 1st – June 30th will be disburse by July 15th, 3rd quarter July 1st – September 30th will be disburse by October 15th, and 4th quarter October 1st – December 31st will be disburse January 15th.
The quarterly approach is there so that every department/program may create a quarterly budget and to reduce time/labor. The USATT if agrees, would disburse to the USTTAA by the 10th of the end of each quarter, so the USTTAA has it in time to disburse with the above quarter timeline to each of the below line items on the 15th of each quarter.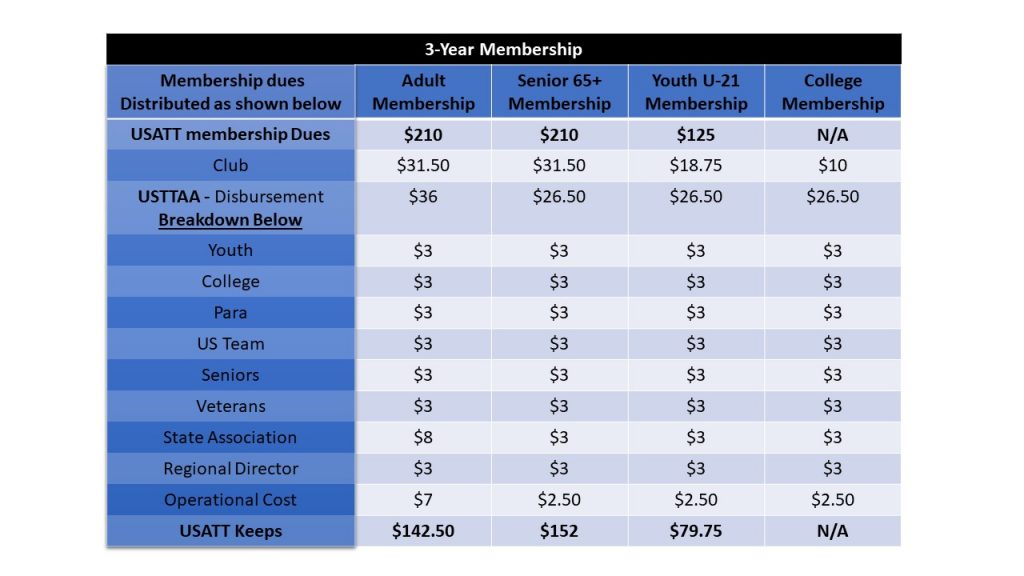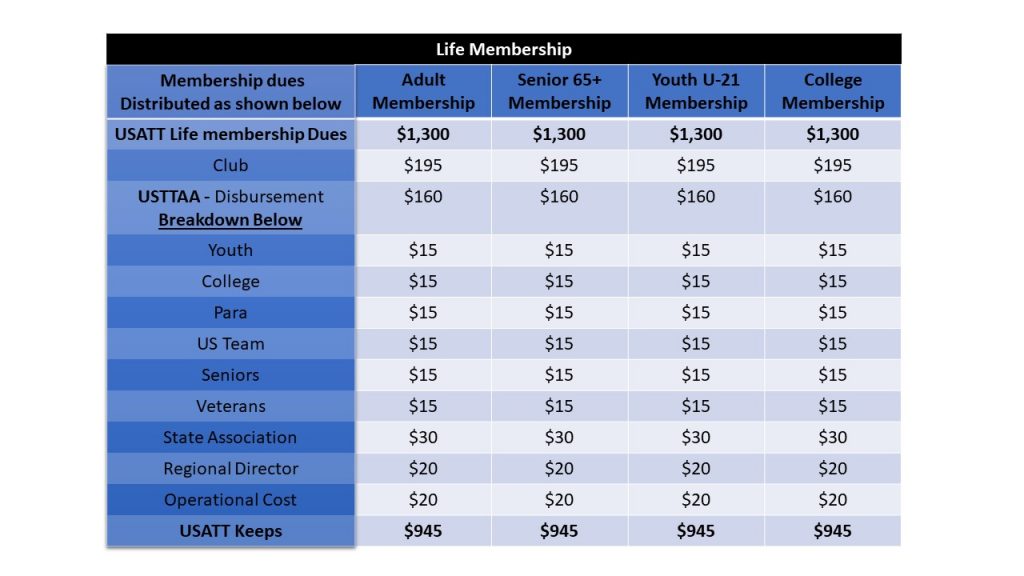 I want to take this time to thank all of you for doing what you do for our sport! I look forward in working with all of you in the future.
Sincere Regards,
Michael McFarland